Front Side Mirrors (FSM)
We supply FSM's in highest quality for all kind of applications, which require the maximum of reproduction quality. Where-ever you need perfect reflection, best coating and a minimum of tolerances our mirrors are the choice.
The difference:
There is a simple test to distinguish between a normally coated mirror (coated on the rear side) and a FSM (front side coated).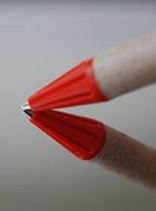 correct, no distance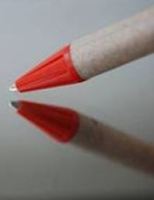 wrong, normal mirror
Due to your requirements for best refection we select the glass and their reflecting coatings plus protection surfaces for you.
Frequently our mirrors are used for image mirroring of video beamers (see picture).
Of course our FSM's are capable for laser applications as long as heat dissipation is guarantied.
You can make a quick price calculation on our FSM-Pricelist (without packing and shipping, plus VAT).
Of course we will provide you with a detailed offer for special requirements and sizes, e. g. round, oval or trapezoid shapes. Another advantage for you: We don't charge extra for small order volumes